She'll Never Learn...
Everyone knows about McKinney's incident where she hit a police officer, but I'm gonna go a bit more in depth to the subject.
After the incident she said,
"I know that Capitol Hill Police are securing our safety, and I appreciate the work that they do.

I have demonstrated my support for them in the past, and I continue to support them now

." However, in an incident in 1993 when she first came to Congress says another thing.
"
This is not the first time McKinney has had an encounter with Capitol Hill police. When she first arrived in Congress in 1993, an officer failed to recognize her because she was new and not wearing the congressional pin. After she complained, police put pictures of McKinney up at each security checkpoint to ensure it would not happen again.

"

And not only that, she has issues with White House Police too.

McKinney also once ran into problems at the White House. USA Today reported that when McKinney, who is African-American, and a young white aide arrived at a welcoming ceremony in May 1998 for then-Italian Prime Minister Romano Prodi, the guard at the gate deferred to the aide as the person of authority. Once in the executive mansion, McKinney said, another guard tried to stop her until Rep. James Moran (D-Va.) stepped in.

"I am absolutely sick and tired of having to have my appearance at the White House validated by white people," McKinney wrote in a complaint to then-President Bill Clinton. "I don't need to be stopped or questioned because I happen to look like hired help."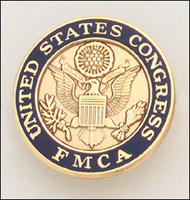 Something that I've discovered is that she doesn't like to wear her lapel pin, shown at left (I think that's it). This is a pin that helps to tell that she is a congressional member, but in every incident that she has been stopped, she didn't wear it.
In 1993,
not wearing it
, in 1998,
not wearing it
, in 2006,
not wearing it
, and a witness has said that AFTER the officer hitting incident, she
STILL didn't wear the pin
.
"
Brian Robinson, an aide to Republican Rep. Lynn Westmoreland of Georgia, said he spotted McKinney on Wednesday evening as she entered the Longworth House Office Building. Robinson said she walked around the security checkpoint, then — though no one tried to stop her — walked back and showed the police officer her congressional ID.

Robinson said she still wasn't wearing her congressional lapel pin.

"

I think Tom DeLay said it best,
"Everything is racism to her."