Les Miles To Stay In SEC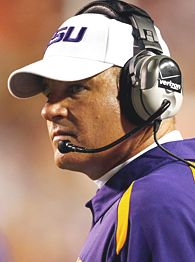 People didn't believe him when he said he will be LSU's coach next season. People were speculating that "Well, he'll leave after the '08 season. He left the door too open with what he said.
They were wrong. Les is there until at least the 2012 season as his contract has been
extended
through the 2012 season.
A note from TSN;
" During his three years at LSU, Miles is a gaudy 33-6 and has 14 wins over teams ranked in the top 25, a school record."
14 wins over top 25 teams in just 3 years. One year with 4 wins, and 2 with 5 wins over top 25 teams. Fantastic.
GO LSU! Bring that National Title back to the south for another year! (Side note; So far, the SEC is
3-0
in National Title games since the beginning of the BCS in 1998.)